Unlike Legion, BFA reputations plays a significant role in gearing your character and progressing on storyline;
The most important one is Champions of Azeroth, because a progress with it impoves your neck's ilvl. It is the only way to upgrade azerite neck's ilvl aside from AP world quests.
The second important one is The Honorbound/7th Legion, which unlocks War Campaign story chapters and 2 Mythic dungeons: The Siege of Boralus / King's Rest.
By the time raid is opened you'll have 4 of 6 factions at Exalted. The last one is Tortollans (Revered). I don't think it's possible now to hit Exalted with Champions after contracts nerf. But you still want revered with them asap
You'll spending most of your time raising your reputations. It is the best way to rise your ilvl before M+ and Mythic Uldir are opened.
Important note to farming reputation is the Contract - a scroll recipe at Inscription level 75 that costs 20-30 herb.
During the buff you'll recieve +10 rep of selected faction when completing any world quest.
The priority is to have Champions of Azeroth contract buff, but you can only use it after reaching Friendly. Use any other contract in the meantime until you hit friendly.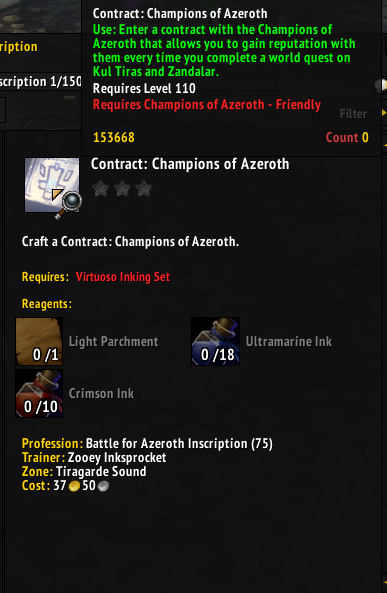 Goals for the first 3 resets before M+ and Mythic Uldir are opened:
Main character and alts are level 120;
Main character's gear is at least 350 ilvl by the start of the 4th reset;
Azerite neck is at least level 21.
5 exalted reputations, except Tortollans (Revered).
War Campaign as well as dungeons are fully unlocked.
All the mandatory 355 crafted items are obtained.
What to do every week on MAIN, in order of priority for the first 3 weeks
Kill 1 world boss (1 of 6 are spawned at random each reset);
Do 10 mythic dungeons (Siege of Boralus and Tomb of Kings require additional reputation, see "Reputations" page);
Do weekly expeditions quest (+2500 AP).
What to do every day on MAIN, in order of priority:
Do every Champions of Azerots world quests under the buff from the Contract including Emissary quest;
Do random heroic dungeon +300 AP;
Do all the remaining leveling quests if there are any;
Spend all the remaining time on random heroics for gear and AP;
If your gear is ok or there are no more upgrades for you in heroics (or you don't have a party), do expeditions instead, as it is way more effective AP wise.;
Don't forget about AP and Reputation follower missions.
---
World of Warcraft tm and Blizzard Entertainment are registered trademarks of Blizzard Entertainment Inc. In U.S.A. and/or other countries.These terms and all related materials, logos, and images are copyright © Blizzard Entertainment. PewPewShop is in no way associated with or endorsed by Blizzard Entertainment. PewPewshop is not selling wow ingame items, only offers you diffirent services to make your ingame skill better and gifting you ingame items. All Rights Reserved. PewPewshop © 2016